Innovative Technology, Simplified
Our experience
With 23 years of experience in the IT industry across industries ranging from healthcare to government to financial services, Kelley | Price Technology is equipped to handle any technology situation. On-time, on-budget, effective technology solutions. That is what Kelley | Price Technology stands for.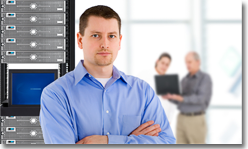 Small To Mid-Sized Businesses
Kelley | Price Technology was founded to serve small to mid-sized businesses with enterprise level services that are friendly to your budget.
When is Kelley | Price Right for You?
• Your goal is to improve the efficiency of your business operations.
• You know that there has to be a way to make technology work for you.
• You want a dedicated IT department, but don't want the high overhead costs.
• You want one main contact for IT who can handle all of your technology needs.
Your Answer: Kelley | Price Technology Simplified IT
Enterprise Customers
Kelley | Price Technology works with several large companies and their IT departments to complete advanced projects and services that the existing IT department doesn't have the skills, experience or time to handle. Kelley | Price can work with your internal IT teams to offset the allowing them to stay focused on the day to day business needs. This can be done at a much lower costs than hiring and training staff.
When is Kelley | Price Right for You?
• You need a few extra resources to get a project done.
• Your existing team does not have experience with a certain type of technology or application development.
• You need a quick, budget-friendly solution for a few projects.
• You do not have enough resources on your team to devote to a much-needed application development or infrastructure project.
• You are counting on a team that will do what they say in the timeframe allotted.
Your Answer: Kelley | Price Technology Professional Service
Client quotes
"Kelley | Price has worked with us for more than five years, maintaining our software and hardware, specifying equipment to suit our needs, solving software problems, installing our network and generally keeping our computer-intensive business up and running. They are talented well-informed, great to work with, and always ready to go out of their way to help. I highly recommend them."
Hugh M. Clark, Ph.D. President, CJI Research Corporation www.cjiresearch.com
Read More...